Description
Back in 2001 eight artists including myself were commissioned to illustrate 24 unique Harry Potter: Chocolate Frog, lenticular (hologram-like) cards.
This was a very different sort of job wherein we were asked to paint somewhat of an animated movement using about three shifts in the pose of the character. Doing this was the closest I've come to animating, and I want to keep it that way. 🙂
The preliminary sketches were composited to show movement to then be approved by the art director at Wizards all the way up to JK Rowling. I recall receiving an email after the art director had her big meeting with Warner Brothers and JK Rowling. Our AD was on cloud nine because apparently all the illustrations were "approved with flying colors" and we'd "knocked it out of the park"… and apparently that that never happened.
P.S. I do still have a few of the original art pieces. So if these obscure paintings in Harry Potter history interest you, send me a message.
Characters Depicted in the cards: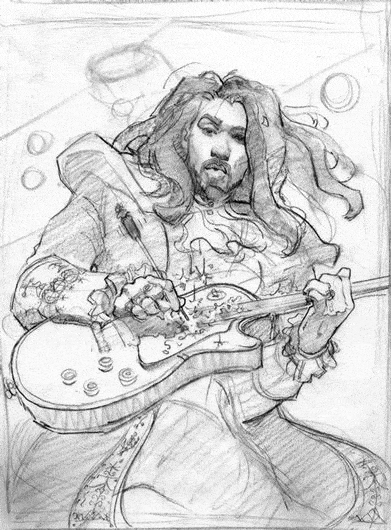 Donaghan Tremlett
Entertainer
Donaghan Tremlett was born in 1972 to non-wizarding parents. A graduate of
Hogwarts, he plays the bass guitar with the popular wizarding band called
the Weird Sisters. Donaghan is a big fan of the Quidditch team called the
Kenmare Kestrels.
Harry Potter: ™ & © Warner Bros. o ©2001 Wizards.
S1 12
Devlin Whitehorn
Inventor
Born in 1945, Devlin Whitehorn created the Nimbus Racing Broom Company in
1967. He helped design the Nimbus 1000. The Nimbus 1000 reaches speeds of
up to a hundred kilometers per hour and can turn 360 degrees in place.
Harry Potter: ™ & © Warner Bros. o ©2001 Wizards.
S1 11
Bowman Wright
Metal Charmer
Bowman Wright was born in 1492 to a non-wizard father and a witch. He
combined his loves of magic, science and sports by creating the Golden
Snitch. The Golden Snitch greatly improved the game of Quidditch. Wright
died in 1560.
Harry Potter: ™ & © Warner Bros. o ©2001 Wizards.
S1 5