Not sure what an EXTREME ALTERATION is?
Everyone loves getting their 'Force of Will' or 'Fact or Fiction' signed, but it was brought to my attention recently that there is something even cooler than that. . . alterations! At a signing a few months ago, several kind young men quietly took me aside and gave me a quick little 'education' regarding the coolness factor of having certain cards changed or altered in some way.
I had guessed that an extra doodle from the artist was kind of nifty, but I was completely unaware that these card adjustments could elicit such priceless responses from friends and foes alike. Good playable cards become highly treasured conversation pieces. At first I was doing simple doodles with markers, but it has evolved to the point where I now actually do a mini painting on top of these Magic cards.
2011 End of the Year Update
As of November, my waiting list to create custom alterations is full. I am currently behind on commissions that I took on earlier this year, so I am not taking on any more requests at this time. I may open my schedule to do more some time next year, but it will depend on the projects on my plate at that time. Occasionally I might create a single alteration and put it up on ebay. If you would like updates on when those happen, simply add me as a friend on Facebook. My friends there always find out first.
For the latest examples of Extreme alterations please check out the MtG Alterations part of my blog.
The Extreme Alterations I do are unique one-of-a-kind painted cards and they take many hours to paint. The cost for fully altered cards is a few hundred dollars. That price varies some depending on the complexity of the custom alteration. If you're already aware of what these cards generally sell for, and are still interested in having this done then feel free to contact me and lets bring your idea to life. For more information about the process of getting your cards altered by me please email me .
Here's what people have to say when they receive their EXTREME ALTERATIONS:
"I got them today and all I can say is WOW!!! They are beyond awesome! Thank you so much for doing those for me I can't wait to show them off at a Type 1 tournament this Monday."
"Hi! I just wanted to let you know that I got the card. It's absolutely gorgeous!!!
Thanks again! "
"I just wanted to let you know that I received the cards back in the mail today, and they are everything I expected and more!!! They are better then I envisioned them to be, and I'm incredibly excited about how they turned out. I have shown them to just 1 of my friends, and he was so impressed that he requested that I ask you the question: are your still doing alterations?"
"I just received the card today and would like to thank you for doing such a great job. I can't believe how fast you had this done and back to me. I would love to have the other 2 EVA units done and some others but I will need to pick up a couple more Force of Wills first. Thank you again and I can't wait to show this off."
Here's a SUPER sped up version of me altering a card.

This is a post showing my brother Ron Spencer and I collaborating on an Altered card.
The Spanish really seem to love the alterations, and there's a good article from the Patio de Nana: Anger and Intuition.

If you would just like to get your Magic cards signed by Terese here's how to get that done.
In the beginning, I organized the alterations into groups called Series I, II & III and made posters out of them:
Series I: (See individual cards)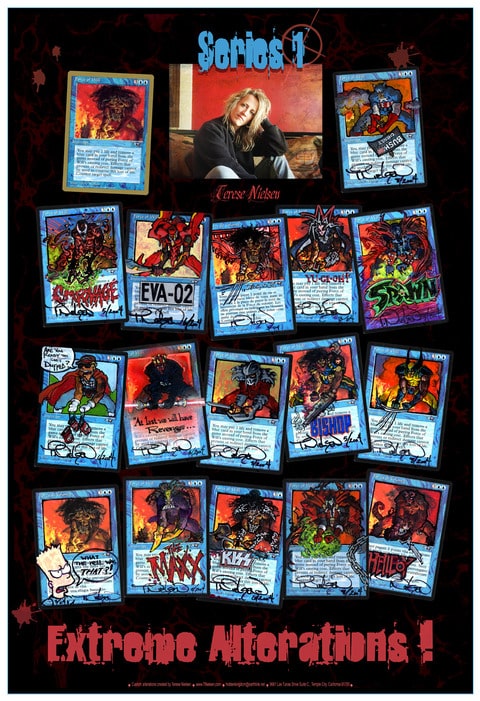 BUY a Series I Poster

Series II: (See individual cards)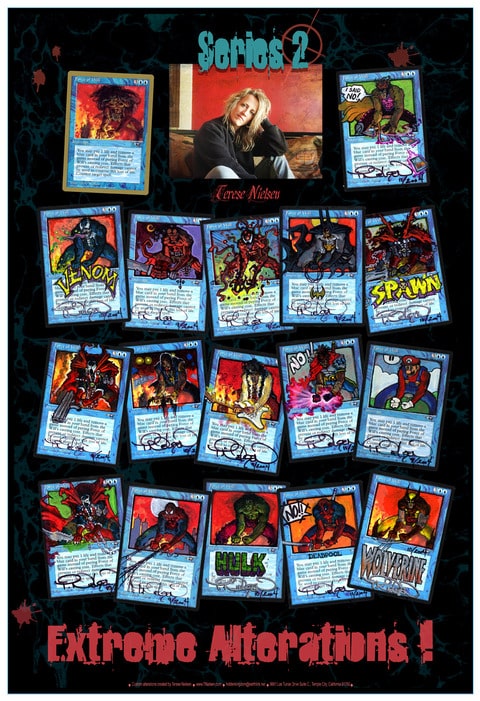 BUY a Series II Poster

Series III: (See individual cards)