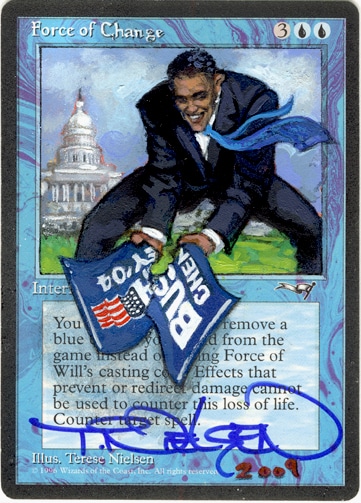 It's been said that President Obama collected comics in his earlier days, and according to the articles, he was a fan of Spiderman, Conan and Batman. Me? I was a fan of Black Panther, Conan, and Xmen. So, if he's cool enough to read comics, he gets my vote. I'm pretty sure Bush didn't. Comic books and graphic novels use big words, and that would've been challenging for him.
I am ecstatic to have the Bush Empire out of office, and look forward to Obama being a "Force of Change", not the least of which is banning torture. The fact that America participates in that and other heinous activities makes me absolutely nauseous. It's hard to say what Obama will be able to accomplish, but at least it looks like we're heading in a more enlightened direction.
I hope you enjoy my latest altered card celebrating President Barack Hussein Obama's inauguration. It was created using acrylic and oil, and wow, is it ever tough to paint a teeny little portrait that's no more than 8mm high. My size 1 brush just wasn't small enough and all of my size 0 and 00 were in terrible shape. My rule of thumb on normal illustration jobs is to never paint a head that's smaller than 1 inch high. Did you notice the cards date is signed in red, the title painted in white, and my signature in blue?

Learn more about EXTREME ALTERATIONS