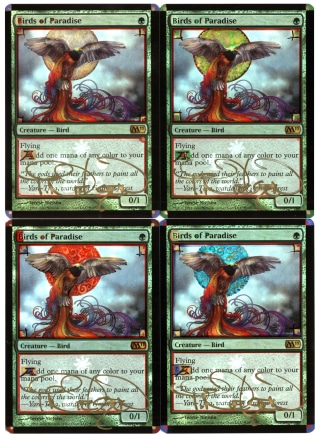 he majority of alterations I create are on Force of Will cards. However, once in a while I like to mix it up and have fun doing something different. This is a playset of the special M11 foil promo cards, The Birds of Paradise.
My intent for this playset was to embellish them in a way that seemed somewhat reminiscent of old illuminated manuscripts. The luminous foil cards look beautiful already, so I chose a subtle approach, adding ornate touches of gouache and gold ink, and finished by signing in gold.
If you'd like this playset for your collection they're on Ebay NOW for 5 days!
While we're on the topic of the art for this card… I oftentimes get asked if I just come up with ideas for cards, or if I'm asked to illustrate a certain thing. In the early days of Magic, there was much more visual flexibility. However, now there are specific style guides as well as detailed descriptions. I've posted the art description I was given below:
TITLE: PROMO Birds of Paradise
ART DESCRIPTION:
Color: Green Creature
Location: Sky
Action: Show a bird of paradise (based on the real-world bird of the same name) that is flying out in the wild.
Focus: On the "bird of paradise" in flight
Mood: a living rainbow, and a thing of beauty in this bleak, grey world
Notes: Normal "real world" birds of paradise" have only 2 tail feathers, however, the one you paint should have many long tail feathers, not just two, with each being a different bright color.
The elegant curves in the work of Alphonse Mucha continually inspire me. You can see his influence in the design of the tail feathers.
As a side note, if any of you are especially intrigued by these gorgeous birds, there's a wonderful full length Nature show about them which I found fascinating.
Shown below is the sketch I created and emailed for approval.
From this sketch, I went on to paint the final art using acrylic and colored pencils. You can get up-close and personal with part of the illustration if you want to see some of the details.
Limited edition of 150 – these prints are on beautiful, textured 13×19" archival watercolor paper, signed and numbered. Buy now!

Learn more about EXTREME ALTERATIONS