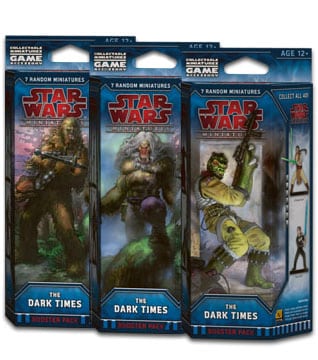 The popular Star Wars Miniatures line from Wizards of the Coast, has a new expansion "The Dark Times" due out on January 26th. I was lucky enough to be commissioned to create the images for each of the three booster packs for this set.
This was my first time drawing or painting any of these three characters. Chewie was the only one I was really familiar with.
I was asked to illustrate Chewbacca holding the bowcaster weapon, showing him doing his "Chewie yelping thing." Ever since I was a kid, that hollow sounding howl has stuck with me. He's a cool character. Does anyone not like Chewbacca?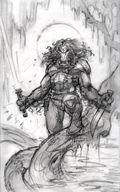 K'Kruhk was all new to me. The art director told me he was a Whiphid Jedi, who lived around the end of the Galactic Republic, all the way to the time of the new Sith Order. We wanted to show him with both his lightsaber and his Rambo knife, looking beefy and imposing. This was one of the rare occasions I've been able to show a Jedi bare chested. The only thing that would've been even more "freakin' sweet", is if they had let me add in the straw hat. I freakin' tried.
It seemed like the images for this set, were heading along a tough, furry theme. However, we deviated from that path on the third one, and tossed in a scaly dude, a.k.a. Bossk, the Trandoshan bounty hunter, — full of attitude.
I didn't know what to make of him… sort of reminded me of the reptiles from "Land of the Lost" only much more dangerous, than the painfully slow, zombie-esque Sleestack. I loved that show. It's on my mind right now, because I picked up my son Lars from the metro today and he had a t-shirt on which said "Chaka is my homeboy". It made me LOL.
So aside from talking about "Land of the Lost", these images
are all created traditionally. I do the sketch on tracing paper parchment. After it is approved, I scan it in, and print it out on Epson Velvet Fine Art Paper. I then submerge the print in my oversize sink, which is filled with water (wet stretching) and mount it to a piece of drywall for a sturdy surface while painting. My first stage of painting is always covering the white of the paper by washing in general colors and textures with acrylic. That is followed with building up the details using colored pencils and oil.
Just to let you know, I still have the original sketches and paintings for K'Kruhk and Bossk. I'll be adding them to my website shortly, but if you want a jump on them email me directly.
** Check out Terese's other
Star Wars
related posts.
** View Terese's Star Wars gallery on TereseNielsen.DeviantArt.com!