Our tree is decked out, our lights are twinkling, the fireplace is glowing, and thick Southern Comfort eggnog is cupped in my hand. We're officially marinating in the season. Happy holidays to you all!  
So waaaay back in 1996 the set Mirage came out, which included the card Stalking Tiger. FYI, I enjoy painting animals, and cats specifically. Most people that look at Stalking Tiger immediately respond to it by saying, "Wow, it looks like a photograph!" Can I just say, I've never really aspired to be a photo-realistic artist? That's what you have cameras and photographers for. So please, check out the larger pic and notice the paint splatters and textures imbued within the piece… you'll make me feel better.  ; )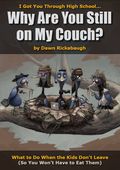 I digress. So, seventeen years later I was asked to paint "Stocking Tiger", to do a fun, satirical version for MtG's 2013 holiday promo. It's not often I have the opportunity to do something more on the whimsical side–this was a rare treat.
I opted to pull in my secret weapon for zany character design, Lars, creator of the Zitboy comic series and currently illustrating the cover and interiors for the book "I Got You Through High School: Why Are You Still on My Couch? (What to do When the Kids Don't Leave so You Don't have to Eat Them)"

I asked Lars to do some quick sketches of whatever came to mind when he read the description I was given, (see below) focusing on the look and mood of the sock puppet characters in particular. He launched over a screenshot of what came to mind, which was the springboard to my final illustration.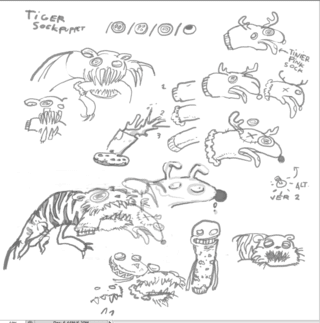 Title: PROMO Stocking Tiger
ART DESCRIPTION:
Color: Artifact creature
Location: A small table in typical "night before Christmas" scene near a fireplace.
Action: A "TIGER" (think of a tiger made of an animated sock puppet) made out of a CANDY CANE STRIPED HOLIDAY STOCKING has jumped up onto the table. It has a second, more pathetic 'sock puppet' in its mouth. The victim puppet hangs limp, its glassy, large, no longer animate eyes look and horrified and unfocused (in a funny way). Maybe the tiger has just knocked over a glass of milk.
Focus: The tiger
Mood: Goofy holiday fun, but with a touch of menace.
Notes: we're not looking for cartoonish drawing here, straight faced execution of a funny scene please.
After letting Lars' inspiration percolate, I sketched up a composition utilizing the feel of his characters within a holiday setting that I hoped would work for the project. The sketch was approved and on to painting I went. The painting was uploaded to Hasbro in early August.
A few days ago my stocking was graced by Wizards of the Coast with a smallish batch of the playable promo cards. Because of their generosity, I've created a special 2013 Holiday Edition of 30 signed and numbered cards. They're signed with a combo

of green/red. Each card is adorned with a hand altered, shiny, varigated gold-leaf holiday ornament. It looks great on the foil card. Oh, if you feel compelled to have one of these you can get them over here! Due to my very limited supply please only one per customer. Also, if you're wondering about the availability of the original sketch and painting. They have new homes already, so they won't be up on the website.
I appreciate your continued interest in my work, and hope that all of my favorite people have an amazing holiday season!!